​2023 Vocal Competition
Established in 1990 through a bequest of the late Russell C. Wonderlic, this competition alternates annually between voice and piano and has allowed many young artists the opportunity to launch international music careers. Pianists Awadagin Pratt and Eric Zuber and soprano Hyunah Yu are prominent past winners.

Wonderlic Vocal Competition & Recital
Deadline for Entry: Friday, March 31, 2023
Preliminary Round: Sat, April 15, 2023, 9am - 4pm
Final Recital/Contest: Sun, May 7, 2023, 3:30pm
The first prize winner will receive $1,500. The second prize is $1,000, and the third prize is $500.

Application guidelines are below. Please click the following links to apply:


Guidelines / Voice 2023

The competition is for residents of Maryland and the District of Columbia (Washington, D.C.) or non-residents attending schools in Maryland or D.C. and open to singers ages 18-35. Proof of residency, enrollment, or age may be required.

Prior Wonderlic Competition winners at any level are not eligible to compete.
Applicants should assemble a 25-minute program of vocal repertoire from a variety of styles, including but not limited to Early Music, Baroque, Classical, Romantic, and contemporary styles of the 20th and 21st centuries. Three languages are required, including but not limited to Italian, German, French, and English. Program suggestions: song literature, arias from opera, oratorio, or excerpts from choral or symphonic selections.

The completed application form, non-refundable application fee of $40 and program information are due no later than Friday, March 31, 2023. Fee payments may be submitted through above link ("Submit Application Fee"). Students who have limited financial resources may request a waiver of this fee by emailing us at info@cc2nd.org.
In the event one applicant is chosen as a finalist, the repertoire selected by the applicant will be the program for the recital, in whole or in part.
All works are to be performed from memory; copies of works are to be available in published form.
For contestants in need of piano accompaniment, contact info@cc2nd.org for a recommendation.
The preliminary competition will take place on Saturday, April 15, 2023 at Second Presbyterian Church at 4200 St. Paul Street in Baltimore. Upon receipt of approved and completed applications and materials, contestants will be notified by email regarding their appointment time, and other necessary information that may be helpful.
The judges will select one or more finalists who will participate in a recital, solo or joint, depending on the adjudication results, as part of the series Community Concerts at Second at the Second Presbyterian Church on Sunday, May 7, 2023 at 3:30 p.m. Each finalist will present a 20 to 25-minute performance. The recital date is not negotiable.

Decisions of the judges are final.

About Wonderlic
Russell C. Wonderlic was active in many Baltimore musical organizations, serving on the boards of the Baltimore Symphony Orchestra, the Baltimore Opera Company, and the Lyric Foundation. Born in Port Huron, Michigan in 1905, Wonderlic was a 1927 graduate of Brown University in Providence, R.I., where he played the drums in the dance band. During the summer, he played in cruise ship orchestras. In 1930, he went to work for the Mutual Life Insurance Company in Buffalo, N.Y., and in 1942 was sent to manage the agency in Baltimore. He retired in 1975 as president of PPC Inc., a pension and benefits consulting firm he founded in 1965. He was trustee and deacon at Second Presbyterian Church, and headed several fundraising campaigns. He passed away in 1989.

---
Past Winners
2022 Piano Winners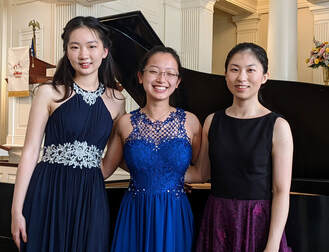 First Place: Taylor Wang
Second Place (tie): Min Joo Yi
Second Place (tie): Ningxin Zhan



---
2019 Voice Winners


​First Place: Shaina Martinez


Shaina Martinez (soprano) is from Germantown, MD and has recently graduated from Manhattan School of Music, studying with Ruth Golden. Roles include: Masterclass (Sophie) with the Bermuda Festival, Cosi fan tutte (Fiordiligi) and Der Zigeunerbaron (Saffi) with Manhattan School of Music Opera Theater; Susannah (Susannah) and Don Giovanni (Donna Elvira) with Lighthouse Opera Company; Children of the Sun (Our Lady of Guadalupe) with the Little Patuxent Opera Institute; and Cendrillon (Prince Charmant/cover) and Die Zauberflote (Zweite Dame) with the Siena Music Festival. Concert engagements include: Turina's voice concerto with the MSM Philharmonia under Perry So, Carnegie Hall performances in the Talents of the World Festival and an Opera America Emerging Artist Recital with Craig Rutenberg. Awards include: Young Patronesses of the Opera Voice Competition 2019 (3rd place – Junior division); Talents of the World International Competition 2018 (1st place), XXI Concurso Internacional de Canto Lirico in Trujillo, Peru (3rd); MONC Rocky Mountain Regionals 2018 (2nd), MSM 2018 Eisenberg-Fried Concerto Competition (Voice – 1st) , 2018 Alan M. & Joan Taub Ades competition (3rd). She received a Bachelor of Music degree from University of Maryland, College Park. She will join the Grant Park Music Festival Project Inclusion Fellowship in May 2019 and will join Florida Grand Opera's Young Artist Studio for their 2019-2020 season.

Second Place: Cierra Byrd

Cierra Byrd, mezzo soprano, is a native of Akron, Ohio. She graduated from The Ohio State University in 2015 with a Bachelor of Music in Voice Performance, where she studied with Dr. Karen Peeler and Dr. Scott McCoy. Ms. Byrd has performed as a featured soloist nationally and abroad with recognized ensembles and organizations including The Capriccio Jubilee Singers, Opera Columbus, and The Stacey V. Gibbs Chorale. She is the first winner of the Wilson Vocal Award, a recurrent NATS finalist, a recipient of Peabody's "Artist Excellence Award", and has recently placed second in Peabody's "Vocal Studies Song Competition". She has also had the honor of singing in masterclasses with renowned tenor, George Shirley and Austrian soprano, Gabriele Lechner.

Ms. Byrd is currently pursuing a graduate degree at The Peabody Conservatory under the tutelage of Margaret Baroody. She is honored to have portrayed the role of La Zia Principessa (The Princess Aunt) in Puccini's Suor Angelica (Il Trittico) with Peabody Opera Theatre this spring. This summer, Ms. Byrd will be performing the role of The Witch in an innovative production of Humperdinck's Hansel and Gretel with Opera Saratoga and Manual Cinema.

Third Place: Huey-Fen Hsu

Pauline Huey-Fen Hsu is a Taiwanese soprano. She has received the title of "New Voice Rising Star" from the Association of Vocal Artists of Taiwan, and was honored with a solo recital at the National Concert Hall in Taipei. Ms. Hsu has received many awards and scholarships in Taiwan, including prizes in The National Taiwan Student Music Competition, Taichung Student Music Competition, Nanhai Rotary Scholarship Awards Competition in Vocal Music, and Tunghai University's Concerto Competition.

She has performed actively in the Tunghai Opera Theatre where she has sung many leading roles, including "Angelica" in Puccini's Sour Angelica, "Yum-Yum" in Sullivan's The Mikado, and "Une Pastourelle" and "La chauve-souris" in Ravel's L'Enfant Et Les Sortilèges. She has also appeared with many choruses and orchestras as a soloist, such as Tunghai University Luce Chapel Choir, Taipei Chinsui Chorus, Kaohsiung Natus Cantorum, Vox Nova Singers in New Jersey and Maryland, as well as the National Taiwan Symphony Orchestra.

She is currently pursuing graduate studies in Vocal Performance and Pedagogy at The Peabody Institute of Johns Hopkins University, studying under the tutelage of Professor Ah Young Hong. Ms. Hsu made her Peabody Opera debut last fall in Humperdinck's Hansel and Gretel, singing the role of "The Stepmother". She also toured the greater Baltimore and Washington D.C. area this fall with Peabody Opera. She is honored to be selected to perform the soprano solo in Mozart's Mass in C minor, K.427, "The Great", with Peabody Symphony Orchestra.
---
2018 Piano Winners

​First Place: Sohyun Moon

Pianist Sohyun Moon is a regularly performing artist whose performances have been described as having "lovely phrasing" and "amazing clarity" by The Hancock Herald, New York. She enjoys numerous concerts as both a soloist and collaborator. As a soloist, she has been dedicating several solo recitals and concerts with a variety of color in music. She also has significant experience in early keyboard music. Particularly, she participated and performed for a harpsichord recital at Early Keyboard Music Festival, Boston in 2016. As a collaborator, she has performed in many joint concerts, including chamber ensembles and accompanied instrumentalists and vocalists in various places, including South Korea, Austria, and United States. Recently she performed for the TEDx broadcasting talk series at the University of Baltimore.

Sohyun has played the piano since she was three years old and has won multiple awards from competitions since the age of four. She has received several awards from competitions, including Second Prize of the Concerto Competition of the 2011 HANEUM Piano Competition in Seoul, South Korea, Special Award of the 2010 International Bach Competition in Japan, and Second Prize of 2009 International Bach Competition in Japan. She has also received honors scholarships and departmental student representative scholarships from colleges where she studied.

She works hard as a performer and accompanist, and is recognized as a departmental student representative of piano, council member for Music College, and participating guest for professional recitals in her college. She was elected Who's Who Among Students in American Universities and Colleges in 2015. Sohyun has a Bachelor's Degree from The University of Suwon, South Korea, and she studied at Temple University where she earned a Master's degree. She is currently studying under Marian Hahn at Peabody Institute of Johns Hopkins University. Her other teachers include Charles Abramovic, Lambert Orkis, Nohee Kwak and Frank Reich.

​Second Place: Ching-Yi Lin

Taiwanese pianist Ching-Yi Lin has been awarded numerous prizes in competitions including the Asia Piano Competition in Kuala Lumpur, the 1st Taipei Taiwan International Piano Competition, and the Taipei City Piano Competition. In 2013, Ching-Yi appeared as a soloist performing Schumann's Piano Concerto with the Soochow Symphony Orchestra as the winner of the concerto competition. In addition, he was selected as a winner by the Taiwan Chapter Society of Peabody Alumni in 2016.

Ching-Yi has been featured in various venues as a soloist, including Brodbeck Music Hall of Hood College, National Recital Hall (Taipei, Taiwan), KHS Hall (Taipei, Taiwan), and Cultural Affairs Department of Yunlin County (Yunlin, Taiwan).

Born in Yunlin, Taiwan, Ching-Yi began his piano studies when he was eight years old. He received his Bachelor of Music degree at Soochow University in Taiwan. Ching-Yi is currently pursuing his Master of Music degree and is also a candidate of Doctoral of Musical Arts at the Peabody Conservatory under the tutelage of Alexander Shtarkman.

​Third Place: Joseph L. Arkfeld

Joseph L. Arkfeld received his Bachelor of Music in Piano Performance at Lawrence University, Appleton, Wisconsin, in the studio of Anthony Padilla. Currently a candidate for the Master of Music in Solo Piano at the University of Maryland, College Park, Joseph is in the studio of Dr. Larissa Dedova graduating this May. Originally from Omaha, Nebraska, he moved to the DC area after completing his undergraduate degree and studied privately with Dr. Mikhail Volchok and Dr. Dedova before matriculating at UMD. In addition to performances in the Midwest since 2015 as a collaborative and solo pianist, in May 2017 he founded New Dynamic, a new music ensemble based in Washington, D.C. of soprano, violin, viola, trombone, and piano fiscally sponsored by Fractured Atlas. One of his compositions for the group, an interdisciplinary collaboration with research programmer Dr. Raffaele Viglianti, will be presented at the Music Encoding Initiative conference at the University of Maryland in May 2018, and at the Digital Humanities Conference in Mexico City in June 2018. All of New Dynamic's current repertoire is focused on digital scores that fluidly change with live weather inputs from publicly accessible web data. Joseph resides in the Washington, D.C. area with his wife and regular collaborator, soprano Tory Wood.
---
2017 Voice Winners

​First Place: Min Sang Kim, countertenor

Countertenor Min Sang Kim, most recently in operatic stages, performed the role of Ottone in Monteverdi's L'incoronazione di Poppea with New York Lyric Opera; Endimione in Cavalli's La Calisto with Peabody Opera; Tolomeo in Handel's Giulio Cesare with Pittsburgh Festival Opera; Secrecy, Mopsa in Purcell's The Fairy Queen with Hawaii Performing Arts Festival; Ixion in Charpentier's La descente d'Orphée aux enfers, Madame de la Haltière in Massenet's Cendrillon and Oberon in Britten's A Midsummer Night's Dream with Peabody Opera; Nerone in Handel's Agrippina with Opera NEO; Ottone, Valetto in Monteverdi's L'incoronazione di Poppea, Cesare in Handel's Giulio Cesare, and Ascanio in Mozart's Ascanio in Alba with Aspen Opera Center. In the concert stages, he performed with Baltimore Symphony Orchestra, Washington Bach Consort, Washington Concert Society, Peabody-Hopkins Chorus, Peabody Symphony and Concert Orchestra, American Bach Soloists, NEC Concert Choir, Daegu Opera House, among others. He is winner of George Woodhead Prize, Baltimore Music Club Competition, Osaka International Music Competition and finalist of Vocal Arts D.C. Competition.

Min Sang is originally from South Korea and moved to the United States in order to attend The Juilliard School's pre-college program, and he received his Bachelor of Music degree at New England Conservatory. He is currently pursuing Doctor of Musical Arts degree at Peabody Institute of The Johns Hopkins University as a Voice Graduate Assistant and a recipient of the George Woodhead Quasi-Endowed Scholarship and the G. Raymond Ziegler Endowed Scholarship in the studio of William Sharp, where he also earned his Master of Music.

​Second Place: Katerina Burton, soprano

Katerina Burton, soprano has been praised for her "distinctly rich tones," and for her versatility in the art song and operatic repertoire. Ms. Burton was most recently seen as Lola Markham in Towson University's production of Gallantry, and as the Fairy Godmother at Annapolis Opera in Cinderella: A Children's Opera. Other roles include the title role of Suor Angelica at Towson, and also the role of Erste Dame in Towson's 2014 production of Mozart's Die Zauberflöte. Ms. Burton is a frequent competitor and was most recently awarded first place in the Shirley Rabb Winston Voice Competition for the D.C. Chapter of the National Society of Arts and Letters. Ms. Burton also won first prize in the Friedmann-Gordon Music Competition and Sidney Lieberman Music Competition at Towson University. In 2015, she was a recipient of the Metropolitan Opera National Council Auditions Encouragement Award for the Mid-Atlantic Region. Ms. Burton is also the winner of Towson University's 2014-2015 Concerto and Aria Competition, as well as a first place winner in the 2017 NATS Maryland/D.C. District competition. Ms. Burton is currently a senior pursuing her Bachelor of Music degree in vocal performance at Towson University.

​Third Place: Maurice Harrington, baritone

Baritone Maurice Harrington is a classical voice performance major, currently in his sophomore year at Morgan State University where he studies with Dr. Ridley Chauvin, baritone. He is a performer with a strong foundation in music and drama applications.

At Morgan State, Maurice acts as a section leader and soloist for the school's Chamber Singers. A graduate with high honors from Baltimore School for the Arts where he studied with bass-baritone, Robert Cantrell, he has been involved in numerous projects, including opera scenes, performing as: Conte di Almaviva, Le Nozze di Figaro; Gianni Schicchi, Il Trittico; Olin Blitch, Susannah; Grandpa Moss, The Tender Land. While a part of the Baltimore School for the Arts, Maurice also had the opportunity to work with conductors such as: Dr. Mark Hardy and Dr. Jed Gaylin. As part of the Baltimore School for the Arts' Chamber Chorus, Maurice would have his first opportunity to sing at the Shriver Hall where he would sing in Verdi's Requiem.

Recently, Maurice was the featured soloist for the winter concert at Morgan State University where he sang the bass solo of Handel's grandiose oratorio The Messiah. He also participated in the masterclasses of Rodrick Dixon, tenor and Kevin Short, baritone. Today, Maurice continues to embody the very spirit of classical music and strives to do his part to influence the audience the great joys and wonders of classical music.